Rare Jacobite Rising Dish
Qianlong Period c.1744-1750
Porcelain, overglaze enamels.
Jingdezhen, Jiangxi Province, China,
D: 23cm
A Chinese export dish decorated in polychrome overglaze enamels with two soldiers from the Highlander Regiment, one playing the bagpipes and the other holding a rifle. The rim with four panels depicting scenes of birds and landscapes.
The designs to commemorate Western political events were sent to China in the 18th century. The tragic memory of the Jacobite Rising of 1745 in Scotland is evoked by plates decorated with Scottish soldiers in kilts, directly copied from a print commissioned by John Bowles (1701-79) in 1743, the engravings of which were originally by George Bickham (1706-1771). The image illustrates two leaders of the 43rd Highlanders Regiment who were summoned by George II in 1743. After hearing rumours that the regiment were to be sent to The West Indies to fight in The War of the Austrian Succession many of the soldiers returned to Scotland to help restore the descendants of the House of Stuart. Three leaders were caught and executed while a piper named Macdonald, believed to be the one depicted, was sent to Georgia as a convict.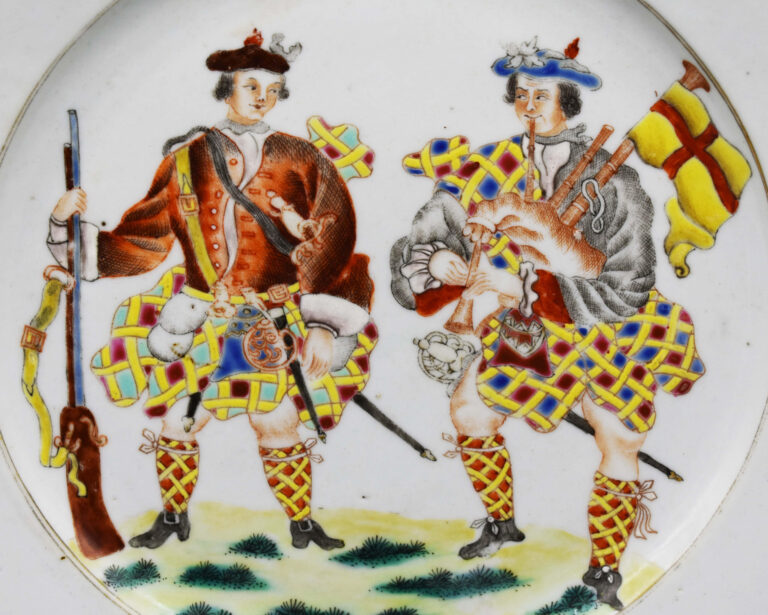 Plates depicting the Jacobite rising are very rare as they were made to order before 1745 and only arrived after the rebellion was quashed. Plates of this nature were an expression of Jacobite sympathy, owning such an item would have amounted to treason. The plate was made in Jingdezhen and then decorated in Guangzhou, where the painters copied the image of the print onto porcelain.
An identical plate is displayed in President Joe Bidens' Oval Office in the White House, Washington D.C, U.S
https://www.washingtonpost.com/politics/2021/01/20/biden-oval-office/
https://www.theguardian.com/us-news/2021/jan/22/joe-bidens-oval-office-what-changes-has-the-new-president-made
Similar Examples in Museum:
A pair of plates with the same design is in the Metropolitan Museum, NY, U.S. Accession: 62.125.1
A closely related example is in the Peabody Essex Museum, MA, U.S. no: AE85761
Another example is in the Victoria and Albert Museum, London, U.K. no.C.29-1951.